Nanotechnology at Northwestern
Meet Cassandra Callmann, a postdoctoral fellow in the Mirkin Research Group
October 14, 2020
Cassandra Callmann is a postdoctoral fellow in the Mirkin Research Group, which focuses on developing methods for controlling the architecture of molecules and materials on the 1 – 100 nm length scale, understanding their fundamental properties, and utilizing those structures to develop novel tools that can be applied in the areas of chemical and biological sensing, gene regulation, immunomodulation, lithography, catalysis, optics, and energy generation, storage, and conversion.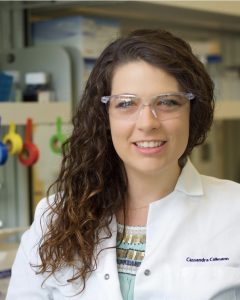 Where are you originally from?
Kutztown, Pennsylvania.
Where did you complete your degrees?
I earned my B.S. in Biochemistry from West Chester University, a public university just outside of Philadelphia (go Rams!), and both my M.S. and Ph.D. in Chemistry at the University of California, San Diego.
When did you first become interested in chemistry and biochemistry?
As a freshman in high school, we heard legends about how mean and strict the chemistry teacher was. Needless to say, when I walked into my first chemistry class in 10th grade, I was a bit terrified. However, the rumors were (mostly) untrue – Mr. Riedel was strict, but it was because he had a love of chemistry and was dedicated to ensuring our success. He was one of the best teachers I've ever had.
This sparked my interest in chemistry, but I really fell in love with the field as a whole when I took organic chemistry at WCU with Prof. Felix Goodson. For me, learning organic chemistry was akin learning a new language, except instead of letters and words that led to sentences and books, they were functional groups and molecules that led to organisms and life.
How do you explain what you study to non-scientists?
As a postdoc, I am finding new and potent ways to train the body's immune system to seek out and destroy cancer. Specifically, my work is on triple-negative breast cancer (TNBC).
You recently became an American Cancer Society Postdoctoral Fellow. What are you working on, and what do you hope to achieve?
It's a tremendous honor. I am working to elucidate the chemical and structural basis for the enhanced immunogenicity that occurs when we make spherical nucleic acids (SNAs) containing lysates (proteins isolated from tumor cells) from TNBC cells that had been subjected to oxidative stress-induced cell death, as well as new ways to deliver these lysates to immune cells using the SNA platform.
What has been a highlight of your time at Northwestern?
One of the best parts of being here at Northwestern and in Chad's group has been that I have been able to get to know and work with people from all around the world and from many different scientific and cultural backgrounds. It has given me new perspectives on how to approach scientific questions and I have made many great friends along the way!
What has been the most challenging aspect of your work or your time at Northwestern?
The most challenging aspect of my work has been learning all of the different immunological terms and techniques that are required for developing and analyzing the immunotherapeutic materials – immunologists LOVE acronyms! Fortunately, I love learning and I find the immune system absolutely fascinating, so I have caught on pretty quickly.  Also, the winters. They were not lying when they said Chicago gets COLD, and it certainly has earned its designation as "the Windy City"!
Can you tell me about your experiences either being mentored or mentoring others?
I have had the fortune to mentor several graduate students and undergraduates here at NU, which has been an incredibly rewarding process. I have learned from both my graduate advisor (Prof. Nathan Gianneschi) and postdoc advisor (Prof. Chad Mirkin) that each student has different mentoring needs and requires a slightly different mentoring style, so I tailor my approach for each person. I am so proud of how far all of my mentees have come in their scientific development and cannot wait to see what they do in their future careers.
What are your hobbies outside of the lab?
Hobbies? What are those? Just kidding – I like to go on runs/walks/hikes by the lakefront and in the forest preserves throughout the Chicago area, but mostly I enjoy spending quality time with my husband and dogs.