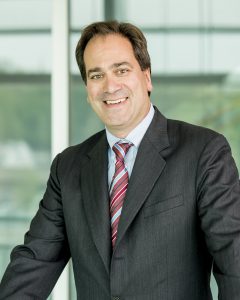 The dawn of the 20th century saw the birth of the airplane, the radio, and the theory of relativity—three technological and scientific developments that changed the world.
Now, a hundred years later, nanotechnology is similarly transforming the world and holds the promise to solve some of the world's most pressing problems in areas as diverse as medicine, information technology, energy, and homeland security.
Scientists and engineers at Northwestern began working in this field in the early 1990s, but it wasn't until the university made the bold, strategic decision to establish the International Institute for Nanotechnology (IIN) that these efforts began to pay off.
Established in 2000 as an umbrella organization to coalesce the nanotechnology efforts across campus, today the IIN represents and unites more than $1 billion in nanotechnology research, educational programs, and supporting infrastructure.
IIN researchers have made groundbreaking discoveries, including a system that detects viruses and bacteria with greater sensitivity than ever before; exceptionally efficient organic solar cells; a carbon nanotube thin film that works as an electrode in lithium-ion batteries; a drug-delivery system that allows physicians to successfully combat inflammation after open-heart surgery, and lotions capable of penetrating deep into the skin and turning "off" disease-causing genes.
The IIN has also had an economic impact. Since its inception, more than 2,000 products and systems have been commercialized worldwide, and 23 start-up companies have been launched that have attracted over $1 billion in venture capital funding.
The IIN is a magnet that attracts the best and the brightest from around the world by fostering an environment that supports discovery and creativity; it is posed to realize the full promise of the world's smallest science.
For example,
What if we could detect and treat diseases long before they presented symptoms?
What if we could develop chemotherapies that could target and destroy only the cancer cells, leaving healthy cells untouched?
What if we could provide fast and safe removal of toxins in the air and the water, or design high-efficiency solutions for energy capture, storage, and use?
What if we could ensure cyber and homeland security?
What if we could solve the world's need for safe food and water?
These are areas in which researchers at Northwestern's IIN are already working because the truth is that nanotechnology is still in its infancy. We still have a long way to go.
Like the scientific and engineering breakthroughs of the early 20th century, nanotechnology will bring dramatic and positive improvements to the everyday lives of people throughout the world in the years to come. For the past decade, Northwestern has been leading and shaping that extraordinary transformation.
We welcome your participation.