Awards and Honors
Chad A. Mirkin receives Rotary Humanitarian STAR Award
February 05, 2019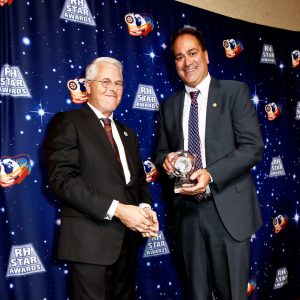 EVANSTON, Ill. — Northwestern University professor Chad A. Mirkin has received a prestigious Rotary Humanitarian STAR Award for his revolutionary discovery and development of spherical nucleic acids (SNAs), the foundation for next generation vaccines and powerful immunotherapies to treat cancer and other devastating diseases.
The STAR Awards, presented by the Rotary Clubs of Pasadena and Sierra Madre, California, recognize outstanding scientific and technological accomplishments in four categories: Health and Medical, Environmental Improvement, Knowledge Sharing, and Disaster Relief and Recovery. Last year's Rotary Humanitarian STAR Award Winner for Environmental Improvement, Frances H. Arnold, California Institute of Technology professor, was the recipient of the 2018 Nobel Prize in Chemistry.
Mirkin, the George B. Rathmann Professor of Chemistry in the Weinberg College of Arts and Sciences  and the director of the International Institute for Nanotechnology at Northwestern, was honored in the Health and Medical category for SNAs and SNA-based bio-detection, which is helping to facilitating early diagnosis of cancer recurrence, and aiding in tracking cancer treatment response, with unmatched resolution and accuracy. In addition, his discoveries are under development as vaccines for cancers and other diseases.
Rotary International and its affiliated clubs and organizations, have a strong history in promoting disease prevention, most notably through the global development and use of vaccines to eradicate deadly diseases throughout the world.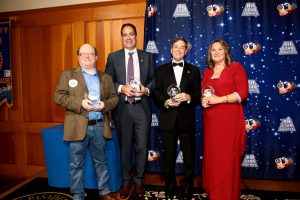 "The Rotary Humanitarian STAR Awards are unique in honoring the humanistic contributions of outstanding scientific and technological achievements," said Joan Riback, co-founder and co-coordinator of the STAR Awards event, and president-elect of the Sierra Madre Rotary Club. "Our aspiration is to inspire work that improves the human condition and saves lives."
The 2018 STAR Award winners also include: Dr. Mihri Ozkan for developing batteries for electric vehicles utilizing organic matter and other inexpensive, abundant renewable resources (Environmental Improvement); Maria Velasco for her creation of HiveCube, a company that builds solar-powered, hurricane-resistant homes from shipping containers in Puerto Rico; and James Margraff, a serial entrepreneur and inventor, honored for his myriad inventions from the LeapPad Learning System to technologies that allow persons without use of their arms and legs to transform intent to action through their eyes (Knowledge Sharing). Lawrence "Larry" Sanger, the co-creator of Wikipedia and Citizendium, received the new Helios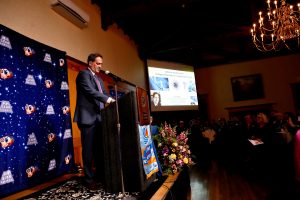 Award given to a person exemplifying Rotary's mission through a scientific achievement that significantly benefi
"The Rotary Clubs of Pasadena and Sierra Madre have contributed significantly to the advancement of health and science," Mirkin said. "It is a tremendous honor to receive this award from such a revered and impactful organization, and to be among this distinguished and accomplished group of awardees."
The STAR Awards were presented at a dinner and ceremony in Pasadena, Calif. on Thursday, Jan. 31, 2019.
The International Institute for Nanotechnology at Northwestern University is an umbrella organization that represents and unites more than $1 billion in nanotechnology research, education and supporting infrastructure.