Research
New research leverages machine learning to discover novel peptides
December 10, 2018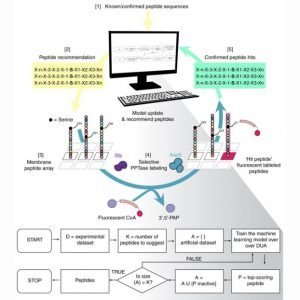 EVANSTON, Ill.—A new study by Northwestern Professor and IIN Associate Director Nathan Gianneschi and team leverages machine learning to discover novel peptides by combining computer algorithms with synthesis rather than via phage display, mutation or guesswork. The discovery has broad potential impact in medicine and new materials.
Read the full study in Nature Communications. 
Read an article on the research at the Northwestern McCormick School of Engineering website.
The International Institute for Nanotechnology at Northwestern University is an umbrella organization that represents and unites more than $1 billion in nanotechnology research, education and supporting infrastructure.