Awards and Honors
Guillermo Ameer receives University's annual Walder Award
June 04, 2019
Regenerative engineering pioneer recognized for research excellence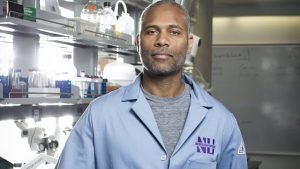 EVANSTON, Ill..—Guillermo A. Ameer, professor of biomedical engineering and surgery, has been named the 18th recipient of the Martin E. and Gertrude G. Walder Award for Research Excellence. A pioneer in the emerging field of regenerative engineering, Ameer is known for his creative approach to designing biodegradable materials that promote tissue regeneration and prevent scarring.
The award, established in 2002 by alumnus Dr. Joseph A. Walder and given annually by the University provost, recognizes excellence in research at Northwestern.
"Through his pioneering work with biomaterials and leadership of the Center for Advanced Regenerative Engineering, Guillermo Ameer exemplifies innovation and excellence in research at Northwestern," said Provost Jonathan Holloway.
"I'm honored to receive this prestigious award in recognition of our work in regenerative engineering," Ameer said.
With appointments in the McCormick School of Engineering and Feinberg School of Medicine, Ameer is the Daniel Hale Williams Professor of Biomedical Engineering and Surgery. He also is the founding director of the Center for Advanced Regenerative Engineering (CARE), which aims to develop a range of biomedical solutions to promote growth and healing in damaged organs and tissues.
Ameer's laboratory has pioneered the development and medical applications of antioxidant citrate-based biomaterials that can be used as a liquid or solid scaffold to regenerate new tissue. The biomaterials then break down and absorb into the body without side effects. The material's main component — citric acid — accelerates healing due to its inherently antioxidant nature. Hundreds of researchers around the world have adopted the material for various bioengineering applications in their laboratories.
Ameer has used his citrate-based biomaterials in a range of applications to address a host of issues, including cardiovascular disease, broken bones, torn ligaments and bladder disease. To help patients with diabetes, for example, Ameer's team used the biomaterials to develop a "regenerative bandage" for chronic, non-healing diabetic footulcers. His bandage heals wounds four times faster than a standard bandage without any side effects.
Named as a top 100 young innovator by Technology Review in 2013, Ameer is a fellow of the American Institute of Medical and Biological Engineering, Biomedical Engineering Society, American Institute of Chemical Engineers and the American Association for the Advancement of Science. A native of Panama, he received a key to the city of Panama City by the Panamanian government in 2018 for his contributions to science and society. He also has received the American Heart Association Established Investigator Award, the National Science Foundation CAREER Award, the Walter H. Coulter Early Career Translational Research Award and an American Immigration Law Foundation Immigrant Achievement Award.
He has authored more than 250 scientific papers, which have been published in high impact journals, including Nature Materials and the Proceedings of the National Academy of Sciences. He also has more than 50 patents issued or pending in nine countries.
Through his leadership, CARE has successfully competed for more than $10 million in extramural funding to carry out several regenerative engineering projects, sponsored by several government agencies. Ameer also is a faculty affiliate of Northwestern's Simpson Querrey Institute, Chemistry of Life Processes Institute and International Institute of Nanotechnology.
Joseph Walder earned his doctoral and medical degrees from Northwestern, then founded a company that supplies synthetic DNA for research and clinical applications. A complete list of award recipients can be found on the Office of the Provost website.
Read the full article at Northwestern Now.
The International Institute for Nanotechnology at Northwestern University is an umbrella organization that represents and unites more than $1 billion in nanotechnology research, education and supporting infrastructure.