Awards and Honors
IIN-affiliated faculty elected to American Academy of Arts and Sciences
April 27, 2020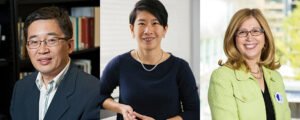 Eight members of the Northwestern University faculty have been elected members of the American Academy of Arts and Sciences, one of the nation's oldest and most prestigious honorary societies. Included among them are three faculty members affiliated with the International Institute for Nanotechnology.
Yonggang Huang is a Walter P. Murphy Professor of Civil and Environmental Engineering and Mechanical Engineering in the McCormick School of Engineering. Huang develops models for stretchable and flexible electronics. His work has led to major advancements in bio-integrated electronics for health monitoring.
He has received numerous awards, including a Guggenheim Fellowship from the John Simon Guggenheim Foundation, the Prager Medal from the Society of Engineering Sciences, the Drucker Medal and Nadai Medal from the American Society of Mechanical Engineers, and the Bazant Medal and von Karman Medal from the American Society of Civil Engineers. A member of the National Academy of Engineering, Huang is a highly cited researcher in engineering, materials science and physics.
Teri W. Odom is the Charles E. and Emma H. Morrison Professor of Chemistry, a professor of materials science and engineering, and chair of the department of chemistry. She is an expert in designing structured nanoscale materials that exhibit extraordinary size and shape-dependent optical and physical properties.
She leads an interdisciplinary research team that focuses on plasmonic metamaterials, multi-scale nanofabrication tools, nano-lasers and bio-imaging. In addition, Odom serves as editor-in-chief of the journal "Nano Letters" and has won numerous awards, most recently the 2020 American Chemical Society Award in Surface Chemistry.
Teresa K. Woodruff is dean of The Graduate School and associate provost for graduate education. She is the Thomas J. Watkins Professor of Obstetrics & Gynecology, the vice chair for research, and chief of the Division of Reproductive Science in Medicine in the department of obstetrics & gynecology, Feinberg School of Medicine.
Woodruff is an internationally recognized expert in ovarian biology and reproductive science. In 2006, she coined the term "oncofertility" to describe the merging of two fields: oncology and fertility. In addition, she championed the National Institutes of Health policy mandating the use of females in fundamental research. She is director of the Center for Reproductive Science, founder and co-director of the Women's Health Research Institute and director of the Oncofertility Consortium.