Awards and Honors
Three IIN-affiliated researchers named AAAS fellows
November 25, 2020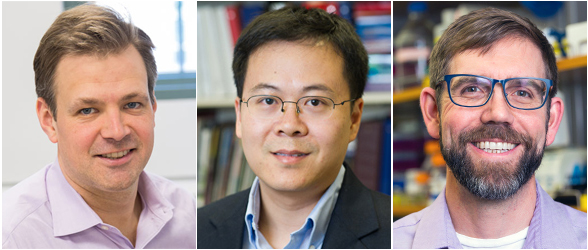 Three IIN-affiliated researchers have been chosen as 2020 fellows of the American Association for the Advancement of Science (AAAS), the largest general scientific society in the world.
William Dichtel, Jiaxing Huang, and Michael Jewett have been elected in recognition of their distinguished efforts to advance science. They will be honored virtually on Feb. 13, 2021, in an induction ceremony for new fellows.
Dichtel is the Robert L. Letsinger Professor of Chemistry in the Weinberg College of Arts & Sciences. He is recognized for distinguished contributions to the fields of organic and polymer chemistry. In particular, he works on synthesis and applications of two-dimensional polymers and porous polymer networks.
Dichtel's lab focuses on creating and testing newly discovered materials that apply organic and polymer energy. His work has implications in water purification, energy storage, explosives detection and polymer design.
Huang is a professor of materials science and engineering in the McCormick School of Engineering. Huang's contributions to the field of materials include work on synthesis and processing of colloidal nanomaterials and their new applications for better living.
His research group aims to create new materials, make them more readily processable and apply them in creative ways. His work has implications in catalysis and energy, corrosion and friction control, manufacturing, personal care, and public health preparedness to infectious respiratory diseases.
Jewett is the Walter P. Murphy Professor of Chemical and Biological Engineering in McCormick and director of the Center for Synthetic Biology. His distinguished contributions to the field of engineering include his use of synthetic biology and cell-free systems to enable new applications that transform the bioeconomy.
Jewett's research focuses on making biology more accessible to engineering. His work has implications in point-of-care manufacturing of vaccines and therapeutics, field-deployable detection of water contaminants for global health, development of equitable K-12 experiential learning kits, and sustainability.
Dichtel, Huang, and Jewett are members of the IIN Steering Committee. They join three additional colleagues from Northwestern in being named 2020 fellows.
Founded in 1874, the tradition of AAAS fellows has continued each year and this year honors 489 members. The AAAS was founded in 1848 and includes nearly 250 affiliated societies and academies of science, serving 10 million people. It publishes the journal Science, the largest-circulating peer-reviewed general journal in the world. The nonprofit AAAS is open to all and fulfills its mission to "advance science and serve society" through initiatives in science policy, international programs, science education, public engagement and more.