Awards and Honors
IIN Announces 2018 Outstanding Researchers
September 27, 2018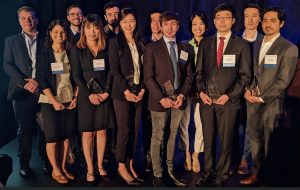 EVANSTON, Ill.—Eleven Northwestern graduate and postdoctoral researchers received Outstanding Research Awards for their exceptional contributions to the broad field of nanotechnology, during the 2018 International Institute for Nanotechnology (IIN) Symposium on Thursday, September 27.
Each recipient received a crystal award and $300 during the award ceremony, which was held at the Hotel Orrington.
"These researchers, who are working on a broad range of nanotechnology solutions and applications, are truly outstanding," said IIN Director Chad Mirkin. "They represent the future of nanotechnology research and discovery."
The 2018 IIN Outstanding Researchers are from the Weinberg College of Arts & Sciences and the McCormick School of Engineering at Northwestern:
• Marc Bourgeois – chemistry
• Mohamad Kodaimati – materials science and engineering (MSE)
• Christine Laramy – chemical and biomedical engineering
• Lingling Mao – chemistry
• Edgar Palacios – electrical engineering
• Sarah Park, PhD – chemistry
• Cristian Pezzato, PhD – chemistry
• Dongjoon Rhee – MSE
• Eileen Seo, PhD – chemistry
• Zhiyuan Sun – MSE
• Shunzhi Wang – chemistry
For more information about the Outstanding Research Awards, please contact Debra Chandler at d-chandler@northwestern.edu.
The International Institute for Nanotechnology at Northwestern University is an umbrella organization that represents and unites more than $1 billion in nanotechnology research, education and supporting infrastructure