Nanotechnology at Northwestern
Meet Julia Kalow, one of three new IIN Steering Committee members
September 11, 2019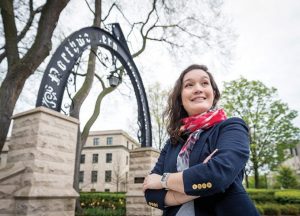 Julia Kalow is the newest member of the IIN Steering Committee. An assistant professor in the Department of Chemistry, in the Weinberg College of Arts & Sciences, Kalow recently received a National Science Foundation CAREER Award for her research on light-responsive polymer networks. Kalow and her research team hope to achieve control of soft materials with light, allowing them to mimic the mechanical changes that occur in human tissue during development, as well as the onset and progression of disease. The discovery could aid in disease prevention and treatment.
Kalow joins William Dichtel, the Robert L. Letsinger Professor of Chemistry, and Michael Jewett, professor of chemical and biological engineering in the McCormick School of Engineering, as 2019-appointed IIN Steering Committee members.
Tell us about your education and your research experience.
I was born and raised in Newton, Massachusetts. I've been an assistant professor at Northwestern in the Department of Chemistry since 2016. Prior to that, I was a Ruth L. Kirschstein NIH NRSA postdoctoral fellow in the Swager lab at MIT, where I worked on novel polymer architectures and stimuli-responsive complex emulsions. I received my PhD in 2013 from Princeton, where as an NSF predoctoral fellow, I developed catalytic fluorination reactions in the Doyle lab and studied their mechanisms. I was an undergraduate at Columbia University, where I studied chemistry and creative writing.
How did you become interested in chemistry?
I became interested in pursuing chemistry as a career thanks to my first undergraduate research experience in the Leighton group at Columbia. Before that, I had done well in my chemistry classes and enjoyed the subject, but I didn't really know what it meant to be a chemist. I found that I really enjoyed working in a research lab on questions that didn't have well-defined answers, and making molecules no one had ever made before.
What is the focus of the Kalow lab?
We work at the interface of organic chemistry and materials science: we use the perspective of reactivity-focused physical organic chemists to approach problems in polymer chemistry. We design new reactions to access polymers by thinking about the properties we are trying to target, rather than just the structures. We also develop dynamic polymer networks by controlling the reactivity of the bonds that make up the network. We hope that these approaches will allow highly tunable control over polymerizations and polymeric materials, particularly using external stimuli like light.
Tell us about your lab's recent accomplishments.
Recently, my lab discovered a strategy to reversibly control the stiffness of a specific type of polymer network–hydrogels, which are networks swelled by water–using only visible light. What distinguishes this system from other materials is that we can avoid harmful high-energy light, and these materials are adaptable (or "stress relaxing")–that is, they have both liquid-like and solid-like characteristics, and deform in response to applied forces. This characteristic makes them more like tissue than typical elastic hydrogels. We have found that we can combine our synthetic materials with tissue-derived extracellular matrix to obtain hybrid materials that have the necessary biochemical cues to support cells, but have this additional component of reversible control with light. We think that this control with light will allow us to mimic the mechanical changes in tissue that occur during development and disease.
Can you share any details about the nanotechnology research that you are currently working on?
A new project in my lab, in collaboration with the Weiss lab, is designing ligands to bridge 0D and 2D nanomaterials, which undergo extremely fast and reversible changes in structure upon irradiation with light. It's known that charge transfer between these different nanomaterials can occur, and that the charge transfer event can be affected by the structure of interlayer ligands. We are interested in what happens when the structure of the ligand is changing on the same time scale as the charge transfer event: we hypothesize that this scenario will lead to non-equilibrium materials.
You were recently appointed to the IIN Steering Committee. How do you hope to contribute to the mission of IIN?
The IIN includes researchers from a wide swath of Northwestern, including scientists, engineers, and physicians, enabling collaborative transdisciplinary research, and provides access to state-of-the-art facilities and equipment. Another great opportunity provided by the IIN, which is available to the whole Northwestern community, is the great speakers that the Institute brings in for seminars and for the annual IIN symposium. The prominence and fundraising of the IIN make it possible to host high-profile and very busy speakers, particularly for the symposium, whom we might not be able to bring in for a standard department seminar. Since the IIN is interdisciplinary, these speakers conduct research at the interface of different fields. Getting to interact with and learn from these speakers is a huge benefit for both me and my trainees. As a member of the Steering Committee, I hope to continue to identify outstanding seminar visitors who highlight the exciting research and diversity of nanotechnology, particularly in my own area of polymer science.
How do you see nanotechnology evolving the next several years and decade—at Northwestern and globally? 
The impact of nanotechnology in biomedicine is well established, but I think we will continue to see even more examples of this, as it moves beyond the academic setting and into clinical contexts. I am also interested to see how nanotechnology can impact urgent issues such as water security.
The International Institute for Nanotechnology at Northwestern University is an umbrella organization that represents and unites more than $1 billion in nanotechnology research, education and supporting infrastructure.​