News
Nathan C. Gianneschi named associate director of the International Institute for Nanotechnology at Northwestern
September 05, 2018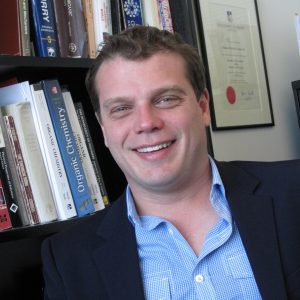 EVANSTON, Ill.—Nathan C. Gianneschi, Northwestern professor and renowned nanoscientist, has been named associate director of the International Institute for Nanotechnology (IIN).
Gianneschi is the Jacob & Rosaline Cohn Professor of Chemistry, Materials Science & Engineering, and Biomedical Engineering. He replaces Professor Teri W. Odom, who is the new chair of the Northwestern Department of Chemistry.
"We are thrilled to welcome Nathan Gianneschi to the associate director role at IIN," said Chad Mirkin, IIN director and the George B. Rathmann Professor of Chemistry. "The IIN at Northwestern is the preeminent nanotechnology center in the world. Nathan has a distinct understanding of the Institute and its mission, as well as broad expertise in nanotechnology-related scientific disciplines and applications."
"The appointment is certainly a fantastic opportunity," said Gianneschi. "I am very excited to help shape and lead the IIN as it continues to advance and build into the future."
Gianneschi's primary laboratory at Northwestern is housed within IIN's Ronald and JoAnne Willens Nano Oncology Center, where he is working to develop nanomedicines for cancer and heart disease, new methods for delivering biomolecules as drugs, and the discovery of new biomaterials and biomimicry. Furthermore, he is a pioneer in electron microscopy of synthetic and biological materials in solution for studying nanomaterials as they form.
Before joining Northwestern, Gianneschi was the Teddy Traylor Faculty Scholar and Professor of Chemistry & Biochemistry, Materials Science & Engineering, and NanoEngineering at the University of California, San Diego.
Gianneschi received his bachelor's degree (with honors) at the University of Adelaide in South Australia and his doctorate at Northwestern in 2005. In 2008, following a Dow Chemical postdoctoral fellowship at The Scripps Research Institute, he became a faculty member at the University of California, San Diego.
For his scientific achievements, Gianneschi has received the National Institutes of Health (NIH) Director's New Innovator Award, the NIH Director's Transformative Research Award, and the Presidential Early Career Award for Scientists and Engineers, the White House's highest honor for young scientists. Gianneschi was also awarded Dreyfus Foundation and Alfred P. Sloan Foundation fellowships. He is a Kavli Fellow of the National Academy of Sciences, and is a Fellow of the Royal Society of Chemistry (FRSC). Most recently, Gianneschi was a finalist for the Blavatnik Young Scientist Award.
Mirkin also thanked Odom for her significant contributions to IIN.
"Teri Odom played an integral role in strengthening the breadth and outcomes of IIN's interdisciplinary nanoscale research program; securing translational opportunities; and most importantly, helping to attract, support and lead our first-rate students and faculty.
"We wish Teri the best in her new role," said Mirkin. "Nathan and I look forward to continuing to work with Teri to advance nanotechnology discoveries at Northwestern."
The International Institute for Nanotechnology at Northwestern University is an umbrella organization that represents and unites more than $1 billion in nanotechnology research, education and supporting infrastructure.