News
Nobel laureate Stefan Hell among internationally-renowned researchers speaking at 2019 IIN Symposium on November 14 in Evanston
October 03, 2019
Registration is free and required for day-long event
Nobel Laureate Stefan Hell is among six internationally-renowned scientists speaking at the annual International Institute for Nanotechnology (IIN) at Northwestern 2019 Symposium, "Maps, Materials, and Methods for Navigating the Nanoscale World," on Thursday, Nov. 14, in Evanston, Illinois.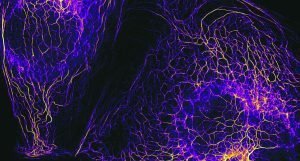 "The IIN Symposium, now in its 16th year, is recognized as the global event for our nanoscience scholars at Northwestern, our friends in the community and colleagues across the globe," said Milan Mrksich, interim vice president for research at Northwestern and the Henry Wade Rogers Professor of Biomedical Engineering. "An audience exceeding 800 participants listens to technical yet quite accessible talks that describe the most recent advances in nanotechnology and their applications to solving the world's most pressing problems. The multidisciplinary talks attract participants from several engineering and science departments, as well as delegates concerned with ethics, societal impact and commercialization. This keynote event showcases Northwestern's leading position in nanotechnology and gives our work a global reach."
Registration is free and required for the day-long symposium, 8:30 a.m. to 6 p.m. at the Hotel Orrington, 1710 Orrington Ave., just a few blocks southwest of Northwestern's campus in Evanston.
2019 IIN Symposium speakers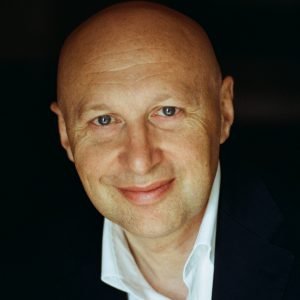 Stefan W. Hell is the director of both the Max Planck Institute for Biophysical Chemistry in Göttingen and the Max Planck Institute for Medical Research in Heidelberg, Germany.  In 1994, Hell developed a method in which one light pulse causes fluorescent molecules to glow, while another light pulse causes all molecules except those in a very narrow area to become dark, effectively turning them on and off.  This makes it possible to track processes occurring inside living cells. This development of super-resolution fluorescent microscopy won Hell, along with American scientists Eric Betzig and William Moerner, the 2014 Nobel Prize in Chemistry.
Harry Anderson is a professor in the Department of Chemistry and a professional fellow of Keble College at the University of Oxford. His research is in the areas of molecular materials synthesis, supramolecular chemistry, molecular recognition, polymers and dyes.  Anderson introduced new concepts for molecular design and ground-breaking approaches to template-directed synthesis, leading to materials with unprecedented electronic and nonlinear optical characteristics. He is well-known for his contributions in the syntheses of supramolecular systems (porphyrin nanorings and nanowires), exploration of the extraordinary physical properties of large pi-conjugated systems, and synthesis of cyclocarbon.
Julia Greer is professor of materials, mechanics and medical engineering at the California Institute of Technology. Her research focuses on creating and characterizing new classes of materials that utilize the combination of 3D architectures with nanoscale-induced material properties. These nano-architected meta-materials have multiple applications as biomedical devices, battery electrodes and lightweight structural materials, and provide a rich "playground" for fundamental science.
David Mooney is the Robert Pinkas Family Professor of Bioengineering in the Harvard School of Engineering and Applied Sciences, and a core faculty member of the Wyss Institute at Harvard. Mooney is a leader in the fields of biomaterials, mechanotransduction, drug delivery, tissues engineering and immune engineering. Mooney is interested in understanding how cells sense signals in their environment and how this alters cell behavior. His laboratory develops biomaterials that exploit these signals to regulate specific cells and their functions. They were the first to demonstrate in 3D culture that the mechanical properties of a substrate regulated stem cell fate.
The symposium will also feature the winners of the 2019 Kabiller Prize and the Kabiller Young Investigator Award, both honoring extraordinary achievement in nanoscience and nanomedicine.
Chad A. Mirkin, the winner of the 2019 Kabiller Prize in Nanoscience and Nanomedicine, is the director of the IIN and the George B. Rathmann Professor of Chemistry at Northwestern. He is a chemist and a world-renowned nanoscience expert who is known for his discovery and development of spherical nucleic acids (SNAs) and SNA-based biodetection and therapeutic schemes; Dip-Pen Nanolithography (DPN) and related cantilever-free nanopatterning methodologies, On-Wire Lithography (OWL) and Co-Axial Lithography (COAL); and contributions to supramolecular chemistry and nanoparticle synthesis. He is the author of more than 740 manuscripts and 1,100 patent applications worldwide (over 330 issued), and the founder of multiple companies, including AuraSense, Exicure, TERA-print, and Azul 3D.
Molly Stevens, a biomedical engineer at Imperial College London and a rising star in the field of nanotechnology, is the winner of the 2019 Kabiller Young Investigator Award. Stevens is director of the UK Regenerative Medicine Platform Smart Materials Hub, deputy director of the Engineering and Physical Sciences Research Council's Interdisciplinary Research Centre in Early Warning Sensing Systems for Infectious Diseases ("i-sense") and president of the Royal Society of Chemistry's Division of Materials Chemistry. She has made numerous contributions to nanomedicine, including the development of nanoparticle-based serological tests for surveillance of Ebola survivors in Uganda using smartphone-enabled technology. Stevens is also developing ultrasensitive lateral flow tests for the detection of other infectious diseases.
The 2019 IIN Symposium is free thanks to the generous support of event sponsors: DLA Piper (gold level); Abbott and Oxford Instruments (silver); AppNano, Exicure, Gatan, Glen Research, Hitachi, Illinois Science + Technology Park, Jeol, Millipore Sigma, Raith Nanofabrication, the Simpson Querrey Institute (SQI) at Northwestern and TERA-print (bronze).
A detailed Symposium agenda and travel information are available at the IIN website.
The International Institute for Nanotechnology at Northwestern University is an umbrella organization that represents and unites more than $1 billion in nanotechnology research, education and supporting infrastructure.