News
Northwestern faculty testify on Capital Hill, promote sustained investment in nanoscience research
August 07, 2014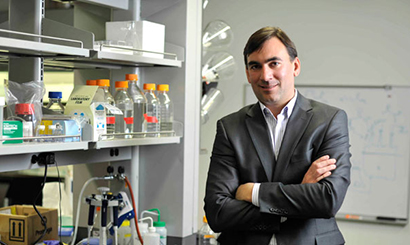 Faculty members testify before Congress on nanotechnology and telemedicine
EVANSTON, Ill. — Northwestern University faculty members Milan Mrksich and Megan McHugh were on Capitol Hill last week testifying before Congress on issues critical to keeping the country scientifically competitive and improving the efficiency of the health care system.
Professor Mrksich testified before the U.S. House Committee on Energy and Commerce's Subcommittee on Commerce, Manufacturing and Trade, discussing sustained investment in fundamental nanoscience research, the economic opportunities of nanotechnology and the obstacles to realizing these benefits.
Professor McHugh testified before the House Small Business Committee's Subcommittee on Health and Technology on telemedicine and small physician practices.
Milan Mrksich, the Henry Wade Rogers Professor of Biomedical Engineering, Chemistry and Cell and Molecular Biology, with appointments in the McCormick School of Engineering and Applied Science, Weinberg College of Arts and Sciences and Northwestern University Feinberg School of Medicine:
Mrksich, an entrepreneur and one of the world's leading engineers working at the interface between materials and biology, testified July 29 at a hearing titled "Nanotechnology: Understanding How Small Solutions Drive Big Innovation."
"Nanotechnology is a broad-based field that, unlike traditional disciplines, engages the entire scientific and engineering enterprise and that promises new technologies across these fields," Mrksich said. "Current challenges to realizing the broader economic promise of the nanotechnology industry include the development of strategies to ensure the continued investment in fundamental research, to increase the fraction of these discoveries that are translated to technology companies, to have effective regulations on nanomaterials, to efficiently process and protect intellectual property to ensure that within the global landscape, the United States remains the leader in realizing the economic benefits of the nanotechnology industry."
Video (at 28:15) and text of Mrksich's testimony.
Mrksich discusses nanotechnology with U.S. Rep. Jan Schakowsky.
Megan McHugh, research assistant professor and director of the Program in Health Policy and Implementation at the Center for Healthcare Studies at Northwestern University Feinberg School of Medicine:
McHugh testified July 31 at a hearing titled "Telemedicine: A Prescription for Small Medical Practices?"
"Telemedicine is an important tool for small practices as payers transition away from the fee-for-service model," McHugh said. "State and federal policymakers have the ability to facilitate the adoption of telemedicine through policies related to reimbursement and licensing, but expansion should be coupled with oversight to monitor impact."
"Despite the gaps and inconsistencies in the evidence, I believe that telemedicine holds great potential to expand access, improve care and reduce cost," McHugh added. "This past year, my colleagues and I at Northwestern University designed a new model for primary care in partnership with a private foundation. Our model incorporates telemedicine, reflecting our belief that telemedicine can not only improve the value of health care, but also improve patient and provider satisfaction, and potentially make the practice of primary care more attractive to physicians."