Awards and Honors
Northwestern professor, former graduate students and doctoral fellow among Young Innovator Awards in NanoBiotech recipients
July 16, 2018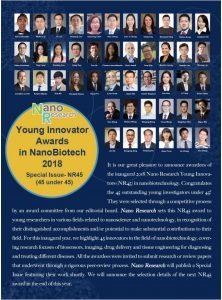 EVANSTON, Ill.–Congratulations Nano Research Young Innovator Awards in NanoBiotech 2018 recipients, including Northwestern Engineering Professor Evan Scott, former IIN Post Doctoral Fellow Emily Day, and former Northwestern Engineering graduate students Eun Ji Chung and Hao Cheng.
Read more about the Nano Research Awards.
The International Institute for Nanotechnology at Northwestern University is an umbrella organization that represents and unites more than $1 billion in nanotechnology research, education and supporting infrastructure.