Research
New paper describes the in-depth characterization of Spherical Nucleic Acids
May 28, 2019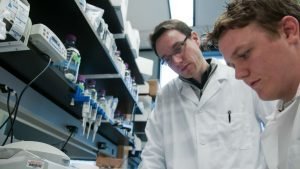 EVANSTON, Ill.—A new article published in Springer Protocols, "RNA Interference and Cancer Therapy," describes methods for the synthesis and physiochemical and biological characterization of spherical nucleic acid (SNA) gene silencing effects in glioma cells in vitro and in patient-derived xenograpft models in vivo.
The lead authors of the article, "Synthesis, Physiochemical, and Biological Evaluation of Spherical Nucleic Acids for RNAi-Based Therapy in Glioblastoma," are IIN Director Chad A. Mirkin,and Feinberg School of Medicine Associate Professor Alexander H. Stegh.
The International Institute for Nanotechnology at Northwestern University is an umbrella organization that represents and unites more than $1 billion in nanotechnology research, education and supporting infrastructure.