News
Pathbreaking chemist Richard P. Van Duyne dies
August 01, 2019
The discoverer of surface-enhanced Raman spectroscopy is remembered as 'remarkable mentor' who made a fundamental impact on his field
EVANSTON, Ill. (August 1, 2019)—Richard P. Van Duyne, a Northwestern University analytical chemist renowned for his discovery of surface-enhanced Raman spectroscopy (SERS), died Sunday, July 28. He was 73.
Van Duyne's discovery of SERS — which is capable of both detecting and identifying single molecules — has had a huge effect on chemistry, physics, materials science and medicine around the world. He discovered the technique in 1977, six years after joining the faculty at Northwestern, where he spent the entirety of his career as a professor and researcher.
"Professor Van Duyne contributed immeasurably to his discipline, to his department and to Northwestern," said Adrian Randolph, dean of Northwestern's Weinberg College of Arts and Sciences. "He was a brilliant and amicable colleague, one whose research and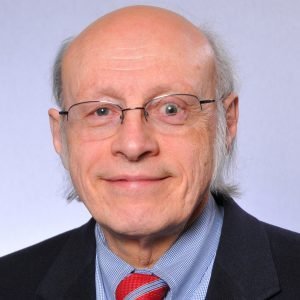 teaching leaves a rich legacy."
Van Duyne was the Charles E. and Emma H. Morrison Professor of Chemistry at Weinberg College and a professor of biomedical engineering at the University's McCormick School of Engineering. He also was a key member of Northwestern's International Institute for Nanotechnology (IIN), where he played an important role in both the Nanoscale Science & Engineering Center and Center of Cancer Nanotechnology Excellence.
Van Duyne was a trailblazer in the field of plasmonics — the study of how light interacts with metal surfaces that support surface plasmons. In addition to his discovery of SERS, Van Duyne was also known for his advancement of nanosphere lithography (NSL), which helped transform the field of nanoparticle optics, and of localized surface plasmon resonance spectroscopy.
These breakthroughs enabled Van Duyne to develop a broad spectrum of new analytical tools to apply to problems in chemical and biological sensing, electrochemistry, materials science, ultrahigh vacuum surface science and even art conservation science.
"Rick not only contributed to fundamental experimental and theoretical breakthroughs, but he also has leveraged his science for applications, including art conservation and preservation through the development of nondestructive ways to detect pigments and colorants in major works of art," said Brian Hoffman, a professor of chemistry at Northwestern.
"Few scientists can match the breadth of his impact," added Teri Odom, chair of the Department of Chemistry and the Charles E. and Emma H. Morrison Professor of Chemistry.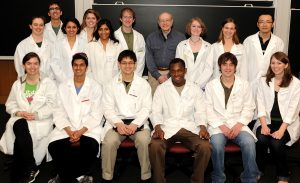 Interests and impact
Van Duyne's research interests were vast. They included all forms of surface-enhanced spectroscopy, plasmonics and nanophotonics, nanoscale chemical and biological sensors, atomic layer deposition, atomic force microscopy, scanning tunneling microscopy, ultra-high vacuum STM, UHV-tip-enhanced Raman spectroscopy, MALDI-TOF mass spectrometry and surface-enhanced femtosecond stimulated Raman spectroscopy.
Van Duyne was listed among the world's top 100 chemists by Thomson Reuters between 2000 and 2010, as measured by the impact of his published research. He was elected to the U.S. National Academy of Sciences in 2010 and won the American Chemical Society's Analytical Chemistry Award that same year. In 2004, he was elected to the American Academy of Arts and Sciences.
During his life, Van Duyne was repeatedly recognized for his accomplishments. His extensive list of honors includes the 2017 Gold Medal Award from the New York Section of the Society for Applied Spectroscopy, the 2017 Spiers Memorial Award from the Faraday Division of the Royal Society of Chemistry, the 2015 Theophilus Redwood Award from the Royal Society of Chemistry, the 2014 E. Bright Wilson Award in Spectroscopy from the American Chemical Society, the Charles Mann Award in Applied Raman Spectroscopy from the Society of Applied Spectroscopy and the 2013 Sir George Stokes Award from the Royal Society of Chemistry. He was also an honorary member of the Society of Applied Spectroscopy.
Other awards include the Ellis R. Lippincott Award from the Optical Society of America in 2008, the 2006 L'Oreal Art and Science of Color Prize, the Nobel Laureate Signature Award for Graduate Education from the American Chemical Society in 2005, the 2004 Earle K. Plyler Prize for Molecular Spectroscopy from the American Physical Society, the Excellence in Surface Science Award from the Surfaces in Biomaterials Foundation in 1996, the Pittsburgh Spectroscopy Award in 1991, the National Fresenius Award from the American Chemical Society in 1981 and the Coblentz Memorial Prize in Molecular Spectroscopy in 1980.
'A remarkable mentor'
Van Duyne was a fellow of the American Institute for Medical and Biological Engineering as well as a member of numerous distinguished societies, including the Society of Applied Spectroscopy, the Royal Society of Chemistry, the American Physical Society and the American Association for the Advancement of Science.
He earned a bachelor of science degree from Rensselaer Polytechnic Institute in 1967 and a Ph.D. in analytical chemistry from the University of North Carolina in 1971. He joined the Northwestern faculty later that year as an assistant professor, and was promoted to associate professor in 1976 and then to full professor in 1979.
Odom described Van Duyne as a "remarkable mentor" to hundreds of graduate students, postdoctoral fellows, undergraduates, secondary education science teachers and other scholars.
"Rick's living legacy of group members, placed as faculty at some of the most prestigious universities and in major positions of influence throughout the chemical industries, will continue to enrich our lives," Odom said.
Van Duyne was known for inspiring future scientists as well. An Eagle Scout, he played a key role in the creation and success of the IIN's annual "All Scout Nano Day," which has encouraged more than 1,600 Boy Scouts, Girl Scouts and Venturing Crew members to pursue higher education and careers in science.
"Rick was not only an accomplished, inspirational scientist, but also an exceptionally generous and thoughtful human being," IIN Director Chad A. Mirkin said. "He was a trusted and deeply valued colleague and friend throughout the university. He will be greatly missed."
Services for Professor Richard P. Van Duyne will take place Sunday, Aug. 4 from 2 p.m. to 5 p.m. at Donnellan Family Funeral Services, 10045 Skokie Blvd., in Skokie, Ill. The memorial service will begin at 3 p.m. Donations in Richard P. Van Duyne's memory can be made to the American Lung Association.