News
Promotions for IIN-affiliated faculty
June 04, 2020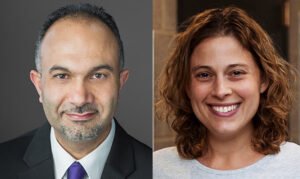 Two IIN-affiliated faculty members have been promoted to Full Professor in the Department of Chemistry at Northwestern University's Weinberg College of Arts & Sciences.
Professor Omar Farha received his B.S. and PhD from University of California, Los Angeles. He joined the Chemistry Department in 2007, as a postdoctoral fellow, in Professor Joseph Hupp's Group. From 2009 to 2017, he worked with Hupp Group and was promoted from Research Assistant Professor to Research Professor, and in the latter role, he jointly advised graduate students. Professor Farha's research seeks to solve exciting problems in chemistry and materials science ranging from energy and environment-related applications to challenges in national defense by employing atomically precise functional materials. By exploiting the modular nature of metal-organic frameworks (MOFs) and porous organic polymers (POPs), we work to fundamentally understand the role of three-dimensional architecture in modifying a material's function for applications in gas storage and separation, catalysis, water remediation and detoxification of chemical warfare agent simulants.
Professor Danna Freedman received her A.B. from Harvard University and her PhD from University of California, Berkeley. After completing postdoctoral research at Massachusetts Institute of Technology, she joined the Chemistry Department in 2012. Research in the Freedman Group focuses on applying inorganic chemistry to solve problems in physics. The Freedman group applies the approaches and tools of synthetic inorganic chemistry to understand and overcome fundamental obstacles in physics and energy research.
Congratulations, Profs. Farha and Freedman!