Awards and Honors
Sossina Haile and Dimitri Krainc awarded Ver Steeg Fellowship
May 21, 2021
Award recognizes tenured faculty who have made major research contributions
IIN-affiliated faculty members Sossina Haile and Dr. Dimitri Krainc have received the 16th annual Dorothy Ann and Clarence L. Ver Steeg Distinguished Research Fellowship Award.
Haile, of the McCormick School of Engineering, is a fuel cell pioneer whose work focuses on sustainability and social good on a global scale. Krainc, of Northwestern University Feinberg School of Medicine, is an outstanding investigator in the field of neurodegenerative research whose work has paved the way for investigations into novel therapeutics.
Bestowed by the Office of the Provost, the Ver Steeg Fellowship supports scholarship and research by tenured Northwestern faculty whose work enhances the national and international reputation of the University. The honor includes a $40,000 award for each recipient.
"I am delighted to honor Professors Sossina Haile and Dimitri Krainc for their pioneering work," Provost Kathleen Hagerty said. "The Ver Steeg Award not only recognizes their groundbreaking efforts but also serves as an important reminder of the life-changing research that takes place every day in Northwestern's classrooms and laboratories."
Sossina Haile
Haile is the Walter P. Murphy Professor of Materials Science and Engineering at McCormick and co-director of the Institute for Sustainability and Energy at Northwestern (ISEN).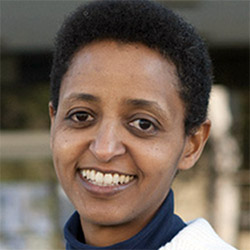 Her research broadly encompasses solid state ionic materials and devices, with particular focus on energy technologies. Haile has established a new class of fuel cells based on solid acid electrolytes and demonstrated record power densities for solid oxide fuel cells. Her more recent work on hydrogen production from water by electrolysis has created new avenues for harnessing the vast potential of solar and wind electricity. In parallel, Haile has developed electrochemical devices that convert ammonia, an easily transported liquid fuel, into high purity hydrogen on demand.
"I am absolutely delighted and humbled to receive this award," Haile said. "I once had a mentor who advised me to walk with giants. At Northwestern there are certainly many giants, and thus my selection is deeply meaningful to me.
"The generous support of the Ver Steeg family will give my lab the opportunity to explore new directions in materials for sustainable energy," she said. "With the nation now rightfully focused on this topic, the fellowship will allow us to do exactly what the times demand – secure preliminary data to validate high-risk, high-reward ideas that then grow into major programs."
Haile joined Northwestern in 2015, after serving 18 years on the faculty at the California Institute of Technology. Internationally renowned, she was inducted into the American Ceramics Society in 2019, the Materials Research Society in 2018 and the African Academy of Sciences in 2016.
She is the recipient of several awards, including the 2012 International Ceramics Prize for the World Academy of Ceramics and the 2010 Chemical Pioneers Award of the Chemical Heritage Foundation. In 2008, an American Competitiveness and Innovation (ACI) Fellowship from the National Science Foundation recognized her "timely and transformative research in the energy field and her dedication to inclusive mentoring, education and outreach across many levels."
Dr. Dimitri Krainc
Krainc is chair of the Davee Department of Neurology, director of the Simpson Querrey Center for Neurogenetics and Aaron Montgomery Ward Professor of Neurology at Feinberg.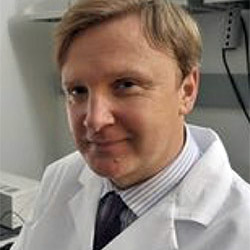 His neurodegenerative research has advanced the study of neuronal degradation pathways and transformed our understanding of common and rare neurodegenerative disorders. Krainc's discovery of transcriptional dysregulation in Huntington's disease, identification of a mechanistic link between Gaucher's and Parkinson's diseases and seminal discovery of direct contacts between mitochondria and lysosomes all have had major impact.
"I am grateful to the Ver Steeg family for their support and am truly honored to receive this distinguished award," Krainc said. "The award will facilitate our research in the area of Parkinson's disease and precision neurology."
Recently, Krainc and his group uncovered pathogenic mechanisms of Parkinson's observed only in human neurons but not in mouse models, potentially providing an explanation for the unsuccessful translation of preclinical mouse studies to human clinical trials. Based on these findings, they developed activators that serve as targeted therapeutics for various forms of the disease. Currently undergoing testing in clinical trials, these activators improve Parkinson's-related cellular dysfunction in patient-derived neurons.
Krainc has received numerous honors and awards in recognition of his achievements, including the Javits Award and recent election to the Association of American Physicians.
Ver Steeg Fellowship
The Ver Steeg Fellowship was established and endowed by the late Clarence L. Ver Steeg and his wife, Dorothy. Clarence Ver Steeg was a Northwestern faculty member for many years in the department of history and served as dean of The Graduate School from 1975 to 1986. The complete list of award recipients can be found on the Office of the Provost website.