Awards and Honors
Yuwei Gu receives Weinberg Family Postdoctoral Fellowship
September 21, 2021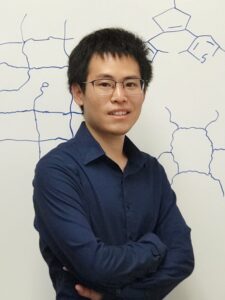 Yuwei Gu is the second recipient of the Weinberg Family Postdoctoral Fellowship, which supports young scientists who demonstrate outstanding talent and promise in the field of nanotechnology.
Made possible through a gift from the family of Judd A. Weinberg, Weinberg Fellowships are awarded annually and include a $65,000 stipend to support research and travel to scholarly meetings.
"I feel extremely honored to receive the Weinberg Fellowship," said Gu. "This prestigious fellowship will support my efforts to develop nanotechnology-based solutions for challenging, fundamental problems in chemistry and biology. I am also excited to continue working in the dynamic and interdisciplinary atmosphere of the International Institute for Nanotechnology."
Gu joined the Mirkin Research Group at Northwestern as a postdoctoral researcher in 2019, after obtaining his PhD in Chemistry at the Massachusetts Institute of Technology (MIT).
His postdoctoral research is focused on developing a selective transport system that allows chemical or biological cargos of interest to pass through an environment at a controllable rate while undesired elements are rejected. Selective transport is a longstanding challenge for applications in areas such as water purification, energy materials, and medicine.
Gu's research has led to a nanotechnology-based solution: leveraging transient DNA-DNA interactions. DNA-binding proteins have the ability to accurately locate a target site, even among a vast sea of non-target DNA. Gu has shown that, through careful, deliberate design, DNA-DNA interactions can be used for selective transport of macromolecular cargo, achieving both high mobility and accuracy.
Recently, Gu has begun exploring this concept for use in sustained insulin delivery. The goal is to develop a hydrogel device that incorporates a special form of insulin with potentially improved stability. The selective transport strategy will allow the insulin to be released over extended periods of time, giving doctors the ability to easily tune the rate of release.
"I am hoping to provide a long-term, customizable solution that will relieve diabetes patients from the burden of receiving two to three insulin shots every day," said Gu.
"Yuwei's ability to identify important problems and find unique solutions to them is truly impressive," said Chad Mirkin, director of the International Institute for Nanotechnology (IIN) and the George B. Rathmann Professor of Chemistry at the Weinberg College of Arts and Sciences. "He stands out among his peers as a smart and creative scientist, and he is an excellent mentor, collaborator, and leader."
Recipients of the Weinberg Family Postdoctoral Fellowship are postdoctoral scholars within Weinberg College. Responsible for the names of both the College and the fellowship, Judd A. and Marjorie Weinberg were both alumni and among the University's most generous benefactors. Judd Weinberg died in 2020 at the age of 93. David B. Weinberg, their son and the chairman and CEO of Judd Enterprises, serves on the Executive Council of the IIN.
The inaugural Weinberg Fellowship was awarded in 2020 to Adrian Figg, who is now an Assistant Professor at Virginia Tech.